Sound Studio is an easy-to-use Mac OS X application for recording and editing audio digitally on your computer. Digitize tapes and vinyl records, record live performances, create your own mixes with crossfades, tweak the levels and EQ, apply digital effects, and save in all major file formats with Sound Studio
Positioned perfectly between more expensive programs with steep learning curves, and far less robust apps, Sound Studio is for anyone who needs to record or edit audio. Some other possible applications include:
Lectures
Voice-notes
Sermons
Performances
and more
Detailed Features
Recording:
Multi-track support: layer stereo sounds and save in interleaved format
Audio Unit plug-in effect support
Saves in MPEG-4 AAC (advanced audio coding) m4a format
Saves in MP3 when the LAME framework is installed
Automator support (launch Automator to see the bundled actions)
Added "New Mono Document" command for quickly creating a monophonic document
24-bit / 96 kHz sample quality, in stereo or mono
Low latency monitoring, using Core Audio
Automatic recording starting and stopping based on timers or audio levels (a.k.a. VOX)
Editing:
Sample-accurate edits
Markers (a.k.a. Cue Points) with text labels
Time ruler with units for video and film
Copy-and-paste editing
Basic mixing edits
AppleScript and Automator support
Effects:
Supports Audio Units
Dynamics: Compressor, Expander, and Noise Gate
Equalization: Graphic EQ, Low Pass Filter, and High Pass Filter
Delay: Chorus, Flanger, Echo, and Reverb
Volume: Amplify, Fade In/Out/Special, and Normalize
Repair: Interpolate, Silence, DC Offset, and Swap Channels
Repair clicks and pops by interpolating samples or silencing them
Tone, FM, and noise generators
Pitch adjustment
Backwards/Reverse Audio
File Formats:
AIFF (.aif) and AIFF-C (.aifc) with compression including IMA 4:1
AAC and MP3 (importing only).
Sound Designer II
Wave (.wav, PCM only)
Tab-delimited text (export only)
Version 4 adds many new features:
64-bit app. (Also runs in 32-bit mode. Some plug-ins only available in 32-bit mode.)
New UI with everything you need in one window.
Output level meters.
Markers listed in the sidebar.
Simplified playback and recording transport.
Improved AudioUnit hosting.
Many bug fixes
Requires Intel CPU and Mac OS X Leopard 10.5 or higher. (Recommended: Snow Leopard 10.6.)
What's New
Version 4.6
Playback speed control.
Automator Actions for filters added.
Updated "Save Sound Studio Documents" Automator Action options for file formats.
Timer Recording now handles fractions of minutes.
Fixed Monbots bug opening multiple files. (Requires downloading Monbots v.1.4.)
Fixed Split By Markers bug with filenames longer than 255 characters.
Fixed FLAC bug with opening large (>2GB) files.
Fixed recording bug when left and right channels were set to the same input channel.
Fixed AppleScript bugs with equalize, reverse, and swap channels commands.
Fixed Pitch and Tempo bug with output duration being incorrect across different invocations.
Fixed Markers sidebar bug with key press handling.
Fixed automatic scrolling bug with zooming, fast forwarding, and rewinding while keeping the playback cue visible in the window.
Added ability to use a License.txt file in the app bundle for easier site licensing.
Compatibility
Intel, Mac OS X 10.6.6 or later
Screenshots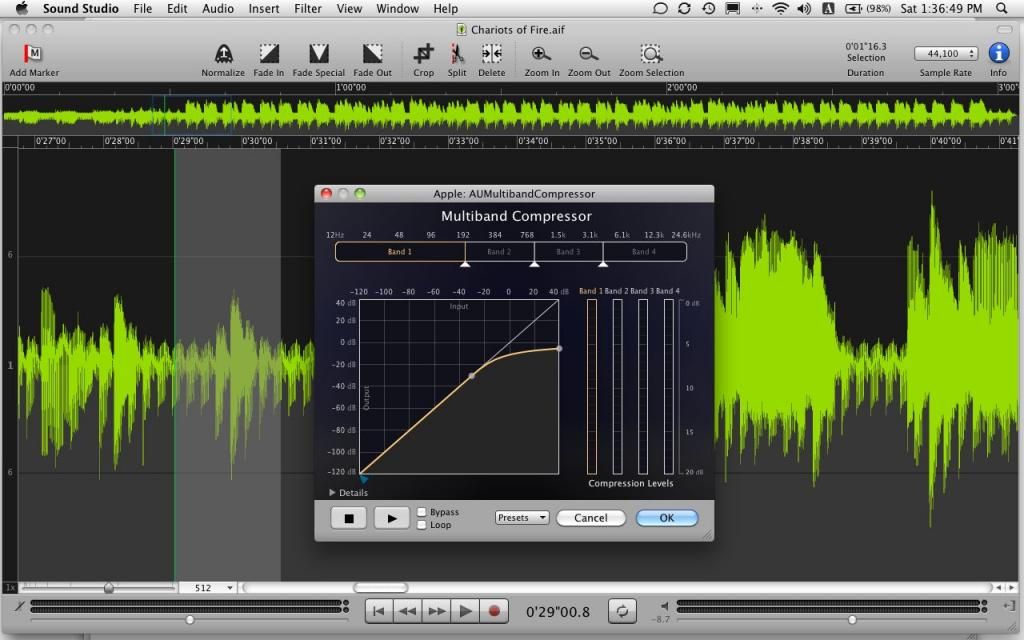 Download Now