DMG Canvas builds disk images from template documents that you create. Simply design your disk image's appearance using the graphical editor and click Build. Each time you release a new version of your disk image, simply click Build again and DMG Canvas will pull together all of the latest versions of your files. DMG Canvas also allows you to specify the license agreements displayed when the disk image is mounted.
With DMG Canvas, you customize every aspect of your disk image, including:
Window background
Icon size and positions
License agreements
The volume's name
The volume's icon
The disk format
Encryption
Compression
Internet Enabling
DMG Canvas is free, but if you find it to be a useful tool, consider making a donation towards future development by registering it.
What's New
Version 2.1:
New:
You can now add double-sized 144 DPI images to use for Retina screens.
When adding an image to the dmg as either the background or a background object, it warns you if it's not 144 dpi, so you know it won't look right on Retina screens.
Text objects can now have colors with alpha values.
Added Font into the Text inspector.
Built DMG file name and are saved and properly suggested the next time you build the disk image.
When you switch to the Background view, it automatically selects the Text sidebar inspector so it's obvious that it's there.
Fixes:
The cmdline tool now verifies the destination path is not a folder. This prevents you from accidentally overwriting your Desktop folder, for example.
Compatibility
Intel, Mac OS X 10.6 or later
Screenshots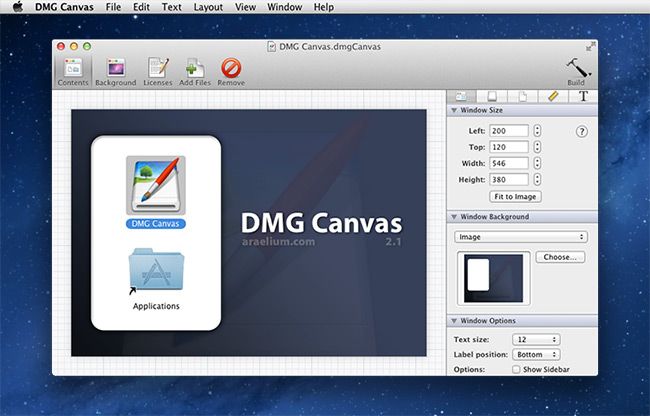 Download Now