Data Guardian is a secure database application. Security and privacy are two of the most important issues in today's world; leaving passwords on sticky notes around your computer simply will not cut it anymore. Data Guardian is a secure database application with up to 448-bits of Blowfish encryption – regardless of how sensitive your data is. Create multiple databases in Data Guardian for a variety of purposes such as an address book, customer database, christmas shopping list, journal, password manager, or even notepad.
Easily create categories to store records, and even apply custom color labels and icons! Change the view options for each category to see the information you want, and even add your own custom data fields. Do not be stuck with a program which forces you to input your information into predefined fields. Enter the data you need to, not what you are forced to.
Aside from Data Guardian's easy to use Keychain integration to autofill passwords on Web sites, it also offers a variety of other tools and features to enhance each record. Dial phone numbers through your modem with a single click, create new e-mail messages, generate secure passwords (based on an algorithm of your choosing), and even synchronize two databases.
Data Guardian is the ultimate database solution, and not only if security is a priority. Allow it to become your computerized Swiss Army Knife in an age of digital chaos.
What's New
Version 2.1.4
New Feature: Dial button in Phone Number field now launches Skype instead of legacy dialling through a modem!
Bug Fix: Fixed UI rendering on Retina displays.
Bug Fix: Import and Export windows no longer can be on an invalid panel (if we add/removed features).
Bug Fix: Fixed Duplicate button on toolbar.
Bug Fix: No longer incorrectly puts username and password into http and https URLs when showing.
Bug Fix: Record windows no longer open up at the wrong (behind menubar).
Bug Fix: Help Button no longer fires action when the mouse is out of bounds when released.
Modification: Moved iPhone/iDevice sync into a 'Mobile Sync' option in the Records menu to more accurately outline its behaviour as both an import and export.
Modification: Removed Contact Keeper import.
Modification: Reverted back to old Safe icon for the time being until version 3.
Modification: Updated Help Button graphic for Mountain Lion theme.
Modification: Removed Palm import/export.
Modification: Removed Classic iPod export.
Compatibility
Intel, Mac OS X 10.4 or later
Screenshots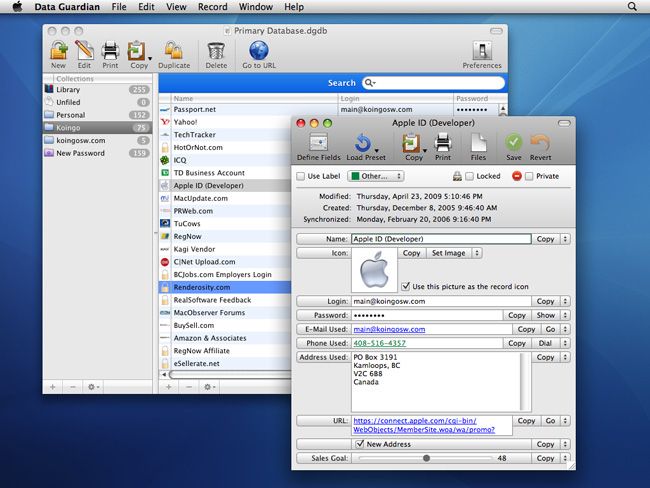 Download Now