CrossOver allows you to install many popular Windows applications on your Mac. Your applications integrate seamlessly in OS X; just click and run. No rebooting, no switching to a virtual machine, and no Windows Operating System license required.
CrossOver is capable of running a wide range of Windows software. To see if your favorite application works with CrossOver, please check What Runs, or search for it using the search box at the top of this page.
Thousands of Titles!
CrossOver can run many different Windows applications. Use this database to find out if your favorite software works under CrossOver.
Easy Installs!
Many Windows titles can be installed using our CrossTie technology. If you have CrossOver installed, and have the installer for your Windows software, simply click the button in our Compatibility Database, and CrossOver will automatically install your application for you!
Compatibility Center Statistics
9,952 applications in database.
1,338 gold medal applications in database.
1,154 1-click install via CrossTie applications in database.
487,841 total CrossTie downloads to date.
Wizard101 is the top downloaded CrossTie with 91,593 downloads.
Star Wars: The Old Republic is the top voted application with 319 votes.
What's New
Version 12.1:
We have fixed a bug where certain users who chose "Register for all users of this computer" during CrossOver's registration would receive an error claiming their bottle had "expired" and could not be used, despite the user having a valid CrossOver license.
We have added a preference setting allowing the user to control what CrossOver does with an unknown Windows .exe file when it is launched. Using this preference, the user can tell CrossOver either to treat the unknown .exe file as an application installer, or to simply run it.
CrossOver will now auto-update CrossTie files if the user has permitted auto-updates of CrossOver itself via Sparkle.
Fixed a bug where automatic updates via Sparkle would fail for some users on Mac OS X 10.6.8 Snow Leopard.
Fixed a bug which caused several games to fail when running in fullscreen mode. Games which should be improved include StarCraft, Fallout, and, we hope, many others.
Fixed a bug which prevented some users from logging into World of Tanks servers.
CrossOver no longer ships Wine-Mono, an open-source replacement for .Net, by default. We had started doing this for CrossOver 12 but the large increase in download size and disk space usage proved too much. CrossOver can still download and install Wine-Mono as-needed.
We have fixed a bug which caused CrossOver to print unnecessary error messages when launching Windows applications, complaining that certain icon files could not be found.
New translations for Polish & Chinese (China), and a partial translation for Italian.
Application Support:
Fixed connection errors with Outlook 2007 and Outlook 2010 when connecting to hosted Exchange servers.
Fixed a bug which caused adding a table of contents to a Microsoft Word document to fail.
Fixed an issue where Quicken failed to download WebConnect and QFX files.
Fixed an issue where Quicken crashed viewing investment details.
Fixed an issue where Quicken crashed when expanding columns in reports.
Fixed a bug which caused clicking on a promotional offer in Quicken to crash.
Fixed some connection failures with Quicken 2011.
Fixed an issue where rotated text was garbled in PowerPoint 2010.
Fixed a bug selecting shapes in Visio 2010.
Fixed a crash on launch in HCFA-1500.
Compatibility
Intel, Mac OS X 10.6 or later
Screenshots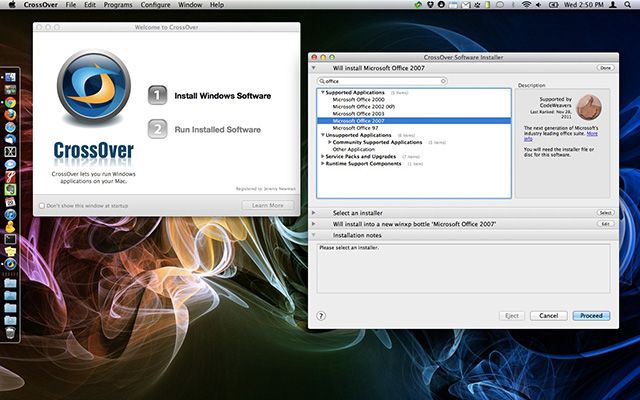 Download Now