Acorn is a new image editor built with one goal in mind – simplicity. Fast, easy, and fluid, Acorn provides the options you'll need without any overhead. Acorn feels right, and won't drain your bank account.
Take screenshots using Acorn and edit them right away.
Chain together image filters to create stunning effects.
Layer based image editing, an industry standard.
Make new images and layers using your built-in iSight.
Easy image and canvas resizing, just by changing the size of your window.
Take advantage of every pixel of your monitor with full screen image editing.
Tablet sensitive for pressure strokes and using the tablet's eraser.
Vector shape and text layers.
Freeform, elliptical, rectangular, and magic wand selections.
Gradients.
Create and apply custom text styles.
Control opacity and blending modes for each layer.
Write plugins using the Python scripting language, as well as in Objective-C.
GPU powered. The same graphics card that makes your gaming experience smooth, helps Acorn fly through the toughest of graphics operations.
What's New
Version 3.5: New Stuff:
The magic wand selection tool now has an option for contiguous or non-contiguous selections. In addition to this, if you use the magic wand tool on a shape layer with the contiguous option turned off, it effectively works as a "select all shapes with this fill color" tool. Which is pretty rad if you have a bunch of shapes that you want to change the colors on.
New File -- Layer Export… menu item, which will export a single layer out of Acorn. In addition to this, if you have a shape layer that you want to export and it doesn't have any layer styles associated with it, a pure vector PDF will be written out.
The contextual menu now has a copy of the Layer -- Shape Align and Size menu for working with selected shapes quickly.
New layer blend modes: Divide, Lighter Color, Darker Color, Hard Mix, and Subtract.
New Generator -- Sunburst filter, which lets you make some awesome backgrounds.
Changes:
Guides are now drawn when you free rotate your canvas.
In the Image Browser window (which you can open via File -- Open Folder… menu item), the little icons on either side of the zoom slider will now increase or decrease the zoom level of the preview images when clicked.
The "Open Image in Acorn" service will now work with selected files when used from the Finder.
If you're editing a file with Autosave + Versions turned on, and that file happens to be locked, Acorn will no longer warn you to duplicate it if you're only applying selections (which don't alter the image).
Holding down the shift key while rotating when using the Layer -- Rotate and Transform -- Scale and Rotate menu item will snap the rotation to 45° increments.
Increased the amount you can magnify an image with the zoom slider from 1000% to 2000%, which should help out Retina MBP owners. Pro tip: did you know you can click the little icons on either side of the slider to zoom in or out in a controlled fashion? And the zoom tool (shortcut key 'z') can zoom in even more than the slider!
Remove FXG as an exportable image format, since Adobe seems to have abandoned it.
Pressing the return or enter key on a shape layer no longer merges it down. Why did Acorn ever do this? I wish I knew, but it was on purpose.
Slight change in behavior with Image -- Trim to Edges: If a bitmap layer has pixels outside the canvas bounds, they are no longer taken into account when trimming down the size of the image.
Added a new property for JSTalk/JavaScript filters to show up in the Actions menu: set ACIsAction=true in the header section of your script.
Updated the JSTalk/JavaScript plugin to work on Group layers.
The "Plus Lighter" blend mode was renamed to "Linear Dodge", to more closely match other image editors.
The "Plus Darker" blend mode was renamed to "Linear Burn", to more closely match other image editors.
The blend modes were reordered to more closely match other image editors.
New Stuff for Scripters:
Some new plugin APIS:

A new method on CIImage: - (BOOL)writeToURL:(NSURL*)fileURL withUTI:(NSString*)uti
A new method to implement for the ACPlugin protocol- (NSNumber*)validateForLayer:(id)layer;
A new method for finding the opaque bounds on layers: - (NSRect)opaqueBounds;

You can also now mess with a layer mask with these new methods on ACLayer:

(void)setLayerMaskImage:(CIImage*)ciimage;
(id )mask;
(BOOL)maskIsLinked;
(void)setMaskIsLinked:(BOOL)value;

The plugin SDK has been moved to GitHub as well: https://github.com/ccgus/AcornSDK
Lots of Important Fixes:
Fixed a bug where sometimes the extension for your filename would disappear in the save sheet.
When using the various transform tools on a bitmap layer, the transform operation will now apply to the layer mask if it is linked.
Fixed a bug where sometimes text boxes would not get their line heights correctly scaled when resizing an image.
Fixed the little Purchase menu blip that you'd sometimes seen when starting up even though Acorn was registered already.
Various fixes with the magic wand tool, including little speed improvements.
Fixed a bug where you'd get interesting patterns in your selection in some cases with the magic wand tool.
Fixed a bug where Acorn thought it would sometimes still have a selection when using the magic wand tool + intersection selection mode, where no intersection was produced.
When exporting as PDF, Acorn will now create a document which respects the current DPI of the image.
Fixed a bug with the Scale and Rotate transform tool, where you couldn't enter fractional values for the rotation field in the palette.
Fixed a bug with the Add Border to Layer filter with Retina displays.
Fixed a bug where zooming with the scroll wheel (hold down the option key for this!) would put the canvas in unexpected locations on retina displays.
Fixed a bug where using the Scale And Rotate menu item on an even width/height image with a rotation of 180° would offset the image by 1 pixel.
Fixed a bug where using the Edit -- Fill menu item to fill your image with a pattern would blur the pattern image.
Fixed a bug in Web Export where the Save button wasn't enabled right away if you switched from saving as a PNG to a JPEG while the PNG was still being processed.
Fixed a bug where the File -- Add Images… menu item would let you select a PDF, but wouldn't actually import it as a new layer to the image.
Using the tab key to change fields in the Acorn Automator Crop Image Action (say it five times fast!) will no take you to the next field.
Fixed a bug where sometimes flipping a layer vertical or horizontal would trim out some of the pixels.
Fixed a bug where the trim bounds of a shape layer was sometimes wrong with multiple shapes.
Various Retina display fixes with layered screenshots and zoom to fit, among other miscellaneous things.
Fixed a bug where the file extension would not change correctly when changing the filetype in the Export sheet.
Fixed a bug where Acorn would crash when making a new document if there was bad data on the clipboard.
When duplicating a document, Acorn will notice if the rulers are showing and turn them on for the duplicated document if needed.
Fixed a bug where Acorn wasn't auto-registering from MAS versions of Acorn that were sandboxed.
Fixed a bug with the "New Image with Curved Drop Shadow" plugin on Retina MacBook Pros.
Fixed a bug with Trim to Edges, where sometimes the canvas would grow if a layer extended outside the bounds of the canvas.
Fixed a crasher when web exporting a completely transparent image with the trim and matte buttons checked.
Compatibility
Intel, OS X 10.6 or later
Screenshots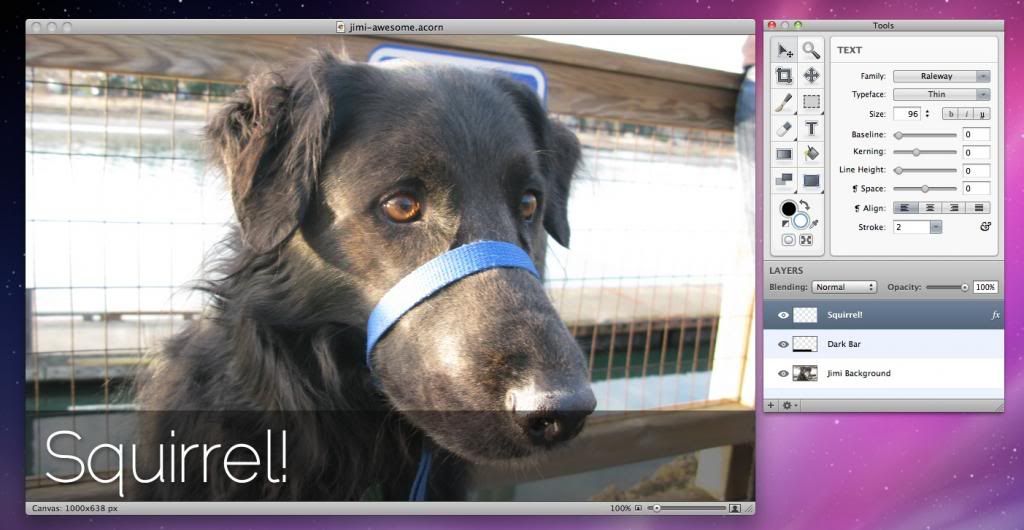 Download Now